Universal Studios Japan – The Park is Brimming with Exciting Attractions
December 26, 2018
While Tokyo Disneyland and Tokyo DisneySea are more suitable for children with milder rides and attractions, Universal Studios Japan is definitely tailored for thrill-seekers. I visited around the festive season at the end of November and there are a number of new Christmas-themed attractions you can look forward to. You'll be captivated by amazing worlds in the all-new night parade, and there is a beautifully illuminated Christmas tree and a spectacular festive show. Read on for a comprehensive guide to Universal Studios Japan.
---
WHAT TO PLAY
---
There are nine worlds in the park – Hollywood, New York, Minion Park, San Francisco, Jurassic Park, Waterworld, Amity Village, The Wizarding World of Harry Potter, and Universal Wonderland. The first world you'll visit after entering the park is Hollywood. Get ready to plunge headlong from a 43-metres drop at an impossible angle on the Hollywood Dream – The Ride (backdrop). Instead of hurling you forward at high speeds, the ride surprises you with backdrops too. For the faint-hearted, I would suggest you to go for the Sesame Street 4D Movie Magic, Shrek's 4D Adventure and the Universal Monsters Live Rock and Roll Show.
The two worlds you'll come across before arriving at the Minion Park are New York and San Francisco. In New York, you can rush through the city like Spiderman or experience the Terminator in a realistic world featuring dynamic 3D images and special effects. On the other hand, in San Francisco, you can experience the realism of Backdraft the movie with powerful explosions and approaching flames.
The Minion Park (alongside The Wizarding World of Harry Potter) is one of my favourite worlds in Universal Studios Japan. Fully immerse yourself in the world of the unique and adorable Minions with the opening of the world's largest Minion Mayhem area. You won't be able to stop laughing at all the cute and funny Minions as they bring you an unbelievably Merry Christmas party. There are the Minions Hacha-Mecha Christmas Party, the Minions Christmas Greeting with Gru, and the Minions Super Greeting (Christmas version). Imagine the minions in their Christmas costume singing Christmas songs and dancing to the lively tunes while balloons and confetti fall from the sky … What a wonderful experience!
I headed to Jurassic Park after partying with the minions, and the two most fun rides are The Flying Dinosaur where you get to fly over Jurassic Park with your body dangling straight down for a thrilling rollercoaster ride, and Jurassic Park – The Ride where you ride a boat through a jungle thriving with dinosaurs for the ultimate adventure. At the end, you'll be flung down a sharp drop, along a rapid current. In Waterworld, you can watch a powerful action show featuring incredible stunts in a reenactment of the Waterworld movie. In Amity Village, you can take a chilling tour through ocean waters from Jaws the movie.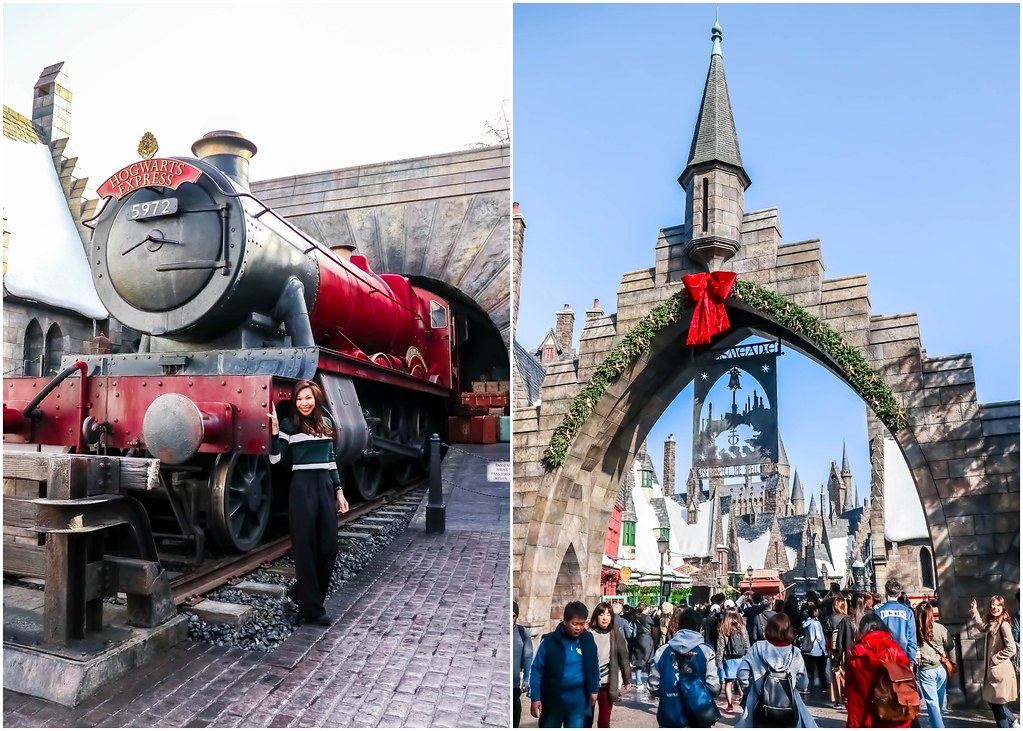 After taking quite a number of rides in other worlds, I finally arrived at The Wizarding World of Harry Potter. This magnificent area reproduced the world from the Harry Potter stories on an overwhelming scale, with meticulous attention to details. Enter the town of Hogsmeade before visiting the towering Hogwarts castle. Inside Hogwarts castle, you'll travel through the classrooms and corridors of Hogwarts School of Witchcraft and Wizardry, including Dumbledore's office and the Defence Against the Dark Arts classroom. There is plenty of photo opportunities here. Remember to revisit the castle after sundown in order to watch this majestic building light up.
I finally reached the Universal Wonderland, a world that's recommended for families with kids. Fly the skies with Snoopy, spin around and around through the super cute world of Hello Kitty, experience the go-carts with characters from Sesame Street, float along a water path in a small boat with Elmo … There are countless attractions to keep the little ones entertained in this world!
---
SKIP THE LINES
---
The Universal ExpressTM Pass (fee charged) shortens your waiting time for designated popular attractions. You can purchase this pass which is available until three hours before park closing from the California Confectionery.
---
TIMED-ENTRY TICKETS
---
This is available and highly recommended for The Wizarding World of Harry Potter. A timed-entry ticket refers to a numbered ticket required to enter the area (the ticket is issued depending on the crowd size). Have your group's representative take the Studio Passes of all group members to the Timed-Entry Ticket booth in Central Park. Select your desired time of entry on the ticket machine to receive your Timed-Entry ticket (one per group). Do note that re-entry may not be permitted depending on capacity.
---
WHAT TO WATCH
---
As mentioned in my opening paragraph, there's an all-new night parade (Universal Spectacle Night Parade) where you can witness the park transform before your eyes. Through elaborate floats and the power of projection mapping, the worlds of Harry Potter, Transformers, Jurassic World, and Despicable Me Minions will come to life.
---
WHAT TO EAT
---
There isn't any must-eats at Universal Studios Japan, but I would recommend drinking a warm glass of non-alcoholic Butterbeer (¥750) from The Wizarding World of Harry Potter. Food wise, you can pair the Butterbeer with a special Christmas Feast, Christmas Platter, Beef Sunday Roast, or other Western dishes at the Three Broomsticks Fine Eating Establishment.
If your camera eats before you do, head to the Happiness Café and you can either try the Minion Burger (¥1,890) or the Minion Omelet Curry (¥1,890). I had the latter which comes with French fries, salad and a soft drink. This café also serves the Christmas Minion Cream Puff during the festive season.
---
WHAT TO BUY
---
The Studio Gifts East, Studio Gifts West, Universal Studios Store and the California Confectionery carry a wide variety of park-themed goods. You can find an array of specialty shops featuring park characters on the boulevard and throughout the park as well.
Universal Studios Japan is my favourite theme park thus far, because I grew up watching Harry Potter, and I'm currently obsessed with the Minions. Moreover, I was pretty impressed by the night parade due to the spectacular visual effects and engaging performances. If you're in Osaka, you shouldn't give Universal Studios Japan a miss!
Universal Studios Japan
Address: 2 Chome-1-33 Sakurajima, Konohana Ward, Osaka, Osaka Prefecture 554-0031, Japan
Opening Hours: Daily 9am to 7pm. Universal Studios Japan's operating hour subject to change without notice. Be sure to check the website before visiting.
Website: https://www.usj.co.jp/e/
Universal Studios Park Tickets and Express Passes can be purchased from H.I.S. Travel. Note that this is a collaboration with H.I.S. Travel (6222 1230). You can find them at 100 Tras Street, #03-16/17/18, 100 AM, Singapore 079027.
In March 2016, Universal Studios Japan and Nintendo announced that a new Nintendo-themed area is coming to the park in 2020, in time for the Tokyo 2020 Summer Olympics .