Be Dazzled by Sydney's Food & Attractions in just 2 Days 1 Night
April 15, 2017
2D1N is too short a time to spend exploring Sydney, Australia's famous harbour city. Our time was limited as this was a short stopover while traveling from Gold Coast to Melbourne. However, we were determined to make the best out of these 2 days.
Sydney is the capital of New South Wales, boasting a lively and vibrant buzz that makes it one of my favourite cities in the world. Doesn't matter which season it is, or what activities you're interested in, there are always plenty of things to do in Sydney. Here's our itinerary which includes a lovely afternoon at Bondi beach, and a stroll along the famous Sydney Harbour with its iconic Harbour Bridge and Opera House in the evening.
---
Day 1 Morning – Sydney Fish Market
---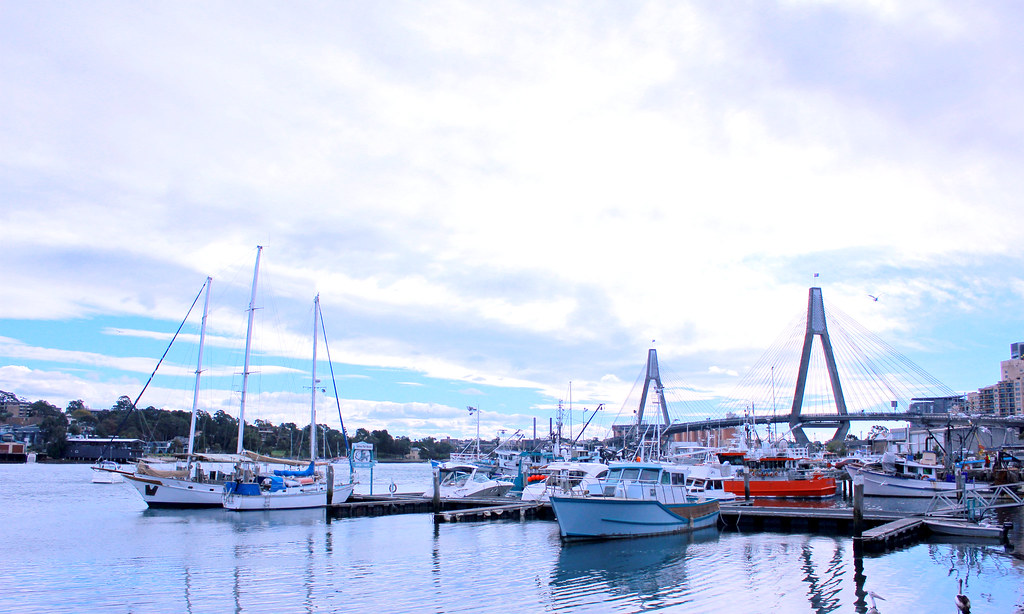 Opened in 1966 and located on Blackwattle Bay, Sydney Fish Market is one of the largest working fishing port and wholesale fish market. The premise includes a fresh seafood retail section, and numerous eateries where you can order really fresh seafood and have them cooked (grilled, deep-fried, sashimi-style etc) on the spot according to your preference.
You should walk around and compare the pricing of salmon, lobsters, oysters, prawns, scallops, sea urchins, crabs, and many other seafood before selecting an eatery. You might already be enchanted by the rows of fresh and colourful fishes and crustaceans at this seafood haven, but don't forget to look out for discounted rates!
Recently, this fish market launched DOSHI, in other words, Sushi Donut. We can hear you squealing in excitement now! After making your seafood purchases, head outside and dine alfresco. It's very relaxing! However, be careful as the seagulls here roam free, and might get aggressive and start 'attacking' your food.
Details
Address: Bank Street, Pyrmont, New South Wales, Australia
Opening Hours: Mon-Thu 7am to 4pm. Fri-Sun 7am to 5pm. Opening hours of eateries might vary. Fisherman's Wharf Restaurant dinner service is open until 11pm every night. Sydney Fish Market is closed on Christmas Day.
Contact: +61 2 9004 1100
Website: http://www.sydneyfishmarket.com.au/home
---
Day 1 Afternoon – Bondi Beach
---
Bondi Beach is one of Australia's beautiful sun-drenched beaches. This one-kilometre long city beach is only 30 minutes by public transport from the city centre, and is one of Sydney's busiest beaches. You can take the trail to Tamarama, Bronte, and Coogee via the scenic coastal walk, or just lay around and soak up the sun.
The main street along the beachfront is Campbell Parade, where you'll find a range of stylish surf and fashion shops, outdoor cafes and bars. The main streets leading back from the beach are Hall Street, Roscoe Street, Curlewis Street and Beach Road. Hall Street has cool fashion and designer labels while Curlewis Street has many art galleries. Every Sunday, the grounds of the local public school host the Bondi Beach Markets, a flea market where you may pick up some bargains including locally produced jewellery, handicrafts and vintage clothing.
For more information, drop by https://www.bondivillage.com/.
---
Day 1 Evening – Chinatown Night Market
---
The Chinatown Night Market is a multicultural community market that is very popular with the city locals, as well as, tourists. We visited the market around 5.30pm in the evening, and it was already packed like sardines. There are many food stalls lined along Little Eat Street featuring cuisines from Hong Kong, Hanoi, Japan, and Sichuan, just to name a few. You will definitely be spoilt for choice!
Details
Address: Dixon and Little Hay Street, Haymarket, New South Wales 2000
Opening Hours: 4pm to 11pm
Website: http://www.chinatownmarkets.com.au/
---
Day 1 Night – Fireworks at Darling Harbour
---
When we were visiting Sydney, there happened to be fireworks around 9pm at Darling Harbour, but the summer season of fireworks at Darling Harbour has now ended. Do check http://www.darlingharbour.com/whats-on/fireworks/ for updates on when the next fireworks shows will be held.
---
Day 1 Night – Harbour Bridge and Sydney Opera House
---
If you're lucky to have caught the fireworks, congrats! If there isn't any fireworks show on the time you're visiting Sydney, don't be disappointed! You can take a stroll along the harbour and watch the Harbour Bridge and Sydney Opera House light up at night. They make Sydney's skyline even more picturesque!
---
Day 2 Morning – Sydney's Morning Market
---
There are quite a number of markets in Sydney that open over the weekends. I'm sorry I don't remember the name of the market that I've visited but you can find a list of interesting Sydney markets at http://www.sydney.com/things-to-do/fashion-and-shopping/sydney-markets. The bustling markets will perk you up in the morning!
Our time was limited in Sydney, but if you've visiting Sydney for a longer time, you can check out their numerous options for day trips to wonderful surrounding regions, have a little fun with children at Taronga Zoo and see the wildlife, or travel to the amazing Blue Mountains and Jenolan Caves – the choices are plentiful.